Benefit from all the resources offered by Sportalis® today!
Laura and John

Thanks to Sportalis® we have made new professional contacts and received dozens of new job offers.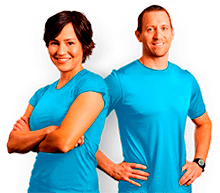 With Sportalis® you will be part of the largest register of professionals in physical activity, sport, and leisure in Europe. Any company or user that wishes it can visualize your public profile and contact you easily. Create your profile for FREE and enjoy today from all the incredible advantages of Sportalis®.
Search for professionals across Europe
Guarantee of certifications and qualifications
Exclusive offers
Training courses
Search for training centers and companies in the sector
Profile
Free
Free
---
| | |
| --- | --- |
| Perfil publico tipo FREE | Sí |
| Inscripción a ofertas de empleo | Ilimitado |
| Lectura revista 360° Sport Fit | Sí |
| Publicación de ubicación y horarios de clases/sesiones | Ilimitado |
| Publicación de ofertas de sustitución | Ilimitado |
| Visualización de candidatos/as en ofertas de sustitución | Limitado |
| Primeras posiciones en búsquedas | No |
| Primeras posiciones en Procesos de Selección | No |
| Publicación y verificación de titulaciones en tu perfil (estudios/formación) | Limitado |
| Permitir que Empresas puedan ver tus datos de contacto al ver tu perfil* (favorece la búsqueda de empleo) | No |
| Referencias y reseñas en tu perfil | No |
| Uso del buzón de mensajes | Limitado |
Sign up for free
Profile
Premium
since

4.09€

X month
---
| | |
| --- | --- |
| Perfil público tipo PREMIUM con fotos y vídeo de presentación | Sí |
| Inscripción a ofertas de empleo | Ilimitado |
| Lectura Revista 360º SportFit | Sí |
| Publicación de ubicación y horarios de clases/sesiones | Ilimitado |
| Publicación de ofertas de sustitución | Ilimitado |
| Visualización de candidatos/as en ofertas de sustitución | Ilimitado |
| Primeras posiciones en búsquedas | Sí |
| Primeras posiciones en Procesos de Selección | Sí |
| Publicación y verificación de titulaciones en tu perfil (estudios/formación) | Ilimitado |
| Permitir que Empresas puedan ver tus datos de contacto al ver tu perfil* (favorece la búsqueda de empleo) | Sí |
| Referencias y reseñas en tu perfil | Sí |
| Uso del buzón de mensajes | Ilimitado |
(*) Funcionalidad opcional: puedes activarla/desactivarla si eres premium
Premium registration